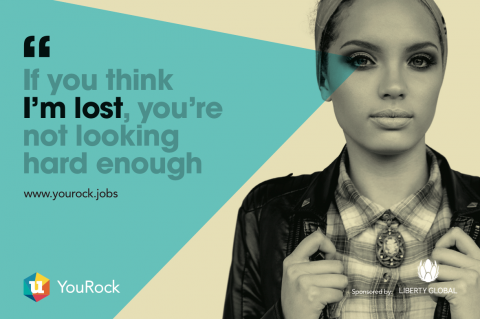 At YouRock we want to make finding a job less scary and more exciting – by helping you show off your amazing skills. What skills? The ones we'll help you discover of course!
On YouRock we'll help you…
Discover your skills
You have lots of the skills employers are looking for – you just don't realise it yet. And that's what your YouRock 'Diamond' is for. Each time you tell us the things you like doing, such as playing sport or writing poetry, we figure out which work skills these are developing.
So if you like writing poetry, you can probably write clearly, and this will build the Communication part of your Diamond. Get it? The more activities you tell us about, the stronger and more complete your diamond becomes.
Get spotted by employers
We will soon be bringing employers to YouRock and showing them the amazing and talented people we have on YouRock. By this we mean YOU!
Upload a professional looking profile picture
Your profile needs a suitable picture. (So not one of you hanging out with your friends or dressed up in a Halloween costume.) We know you probably don't have a professional photographer around to take your picture, so we've created a guide to taking a great profile picture. You can find it here.  
Create an online portfolio
As well as your Diamond, you'll also have the chance to showcase your skills through your portfolio. What's this? This is the section on your profile where you can upload photos and links to your creations – this might be a blog you write or a photo of a trophy you won. Still not sure? Check out our guide to creating your portfolio here.
Get endorsed
You might not realise it, but there are lots of people who think you're great – like your schoolteachers, tutors and anyone that you may have worked for before! You just need to write to these people and ask them for endorsements – we've made it very easy for you to do so, we've even written the email! Do this and you'll have ready-made references to show employers.
Grow your network
YouRock is attracting new members every day! You can follow and message people on YouRock just like you would on another network. This is a great way to meet people with the same interests and show employers how connected you are.
Know what's going on
The YouRock community is growing bigger every day. You can see what people in your network are up to via your newsfeed – and discover events that are going around you too. You can also read blog posts like this one and, soon, you'll be able to reads blog posts written by fellow YouRock members – and maybe even write some yourself!
Create an awesome online CV…
Once you've done the above, and filled in your education and work history, your YouRock profile will become a super-charged digital CV that you can share with employers.
You'll be able to send a link to your personal profile page that shows your Diamond of brilliant work skills, your qualifications, a portfolio of achievements and any previous work experience you have.
… and it is available in 20 languages
That's right, your profile is viewable in 20 languages! You can change languages by clicking the top-right hand corner button on your screen. Yeah, we think it's pretty cool too.
So what are you waiting for? Create your profile and get started!